Off the Grid, Pt. 1
Two and a half weeks ago, David and I packed up and headed out for a 10-day roadtrip. Originally we talked about heading east to take advantage of the fall colors, but Y'ALL!! THERE ARE SO MANY PEOPLE OUT EAST! Plus, we've got some pretty awesome foliage right here in Michigan. After much discussion about where we felt comfortable traveling during a pandemic (David's a strict "no-airplane" Covid-er, which ruled out going to Fairbanks to see the aurora borealis), we chose three National Parks that fit the descriptor "middle of nowhere" to a 'T': Pictured Rocks, the Badlands, and Wind Cave National Park.
Now hang onto your hats, because in a burst of spectacular innovation, I'm splitting up the tales of our subsequent journey into THREE PARTS: one for each national park. This week's entry is Part the First: Pictured Rocks National Lakeshore.
Before we metaphorically climb in the car, I feel that it's important to briefly defend our leaving Andy behind. Andy, you see, belongs to that World of Others, where people have JOBS and ROUTINES and MAKE MONEY and stuff. Thus, when we started talking about taking a roadtrip, he immediately got anxious about having good enough wi-fi to Zoom-teach his classes and was strangely NOT consoled by my assuring him that some gas stations in South Dakota almost certainly have decent internet connections. (Can we all just take a minute, though, and agree that the entertainment value of watching a bunch of The Flying J's patrons do their shopping around Andy while he earnestly explains Plato's theory of aesthetics to his computer screen would be well worth whatever the price of admission might be??)
David, by contrast, has just graduated college and is spending the year getting hands-on digital archiving experience before applying to grad school (tl;dr: IS MAKING NO MONEY), and I'm newly unemployed and have no schedule to speak of. Plus, although spending untold hours in the car driving places used to be our jam (typically heading to the Rockies, either in Montana, Wyoming, or - most often - Colorado) , we haven't taken a roadtrip with just the two of us in at least six years.
And so it was that my only child and I climbed into the car on a Thursday afternoon and took off to the Great Unknown.
To be fair, it wasn't really the Great Unknown. One of the reasons we chose the parks we did was that they were ones we'd driven right past on multiple occasions and never stopped to visit. Pictured Rocks, for instance, is in the Upper Peninsula (UP) of Michigan, and we've lived in the Lower Peninsula most of David's life. There are only so many times one can handle driving through endless 80-90 Chicago traffic and its continuous road construction before one decides that the five or so extra hours involved in going "up and around" Lake Michigan is worth it, and so we've driven through the UP several times. In fact, for years we used to spend the Fourth of July weekend there with friends at a tiny lake near Blaney Park. That said, we'd never gone to see Pictured Rocks. And so, it being early October and the fall colors being expected to peak up there THAT VERY WEEK, we decided we'd start the trip there.
Ahhhhhh...the open road. I'd rented a car so that Andy would be able to get around town in our absence, and the rental had all the leg room David could want PLUS a port where we could plug in my phone and listen to music and books on Audible. We were like kids in a candy-store. (Our own car is a 2010 Honda Fit. It is lovely for getting around town and not breaking down or costing lots of money, but it is exactly not a repository of technological wonders.) In just a few hours, we'd reached the Mackinaw Bridge.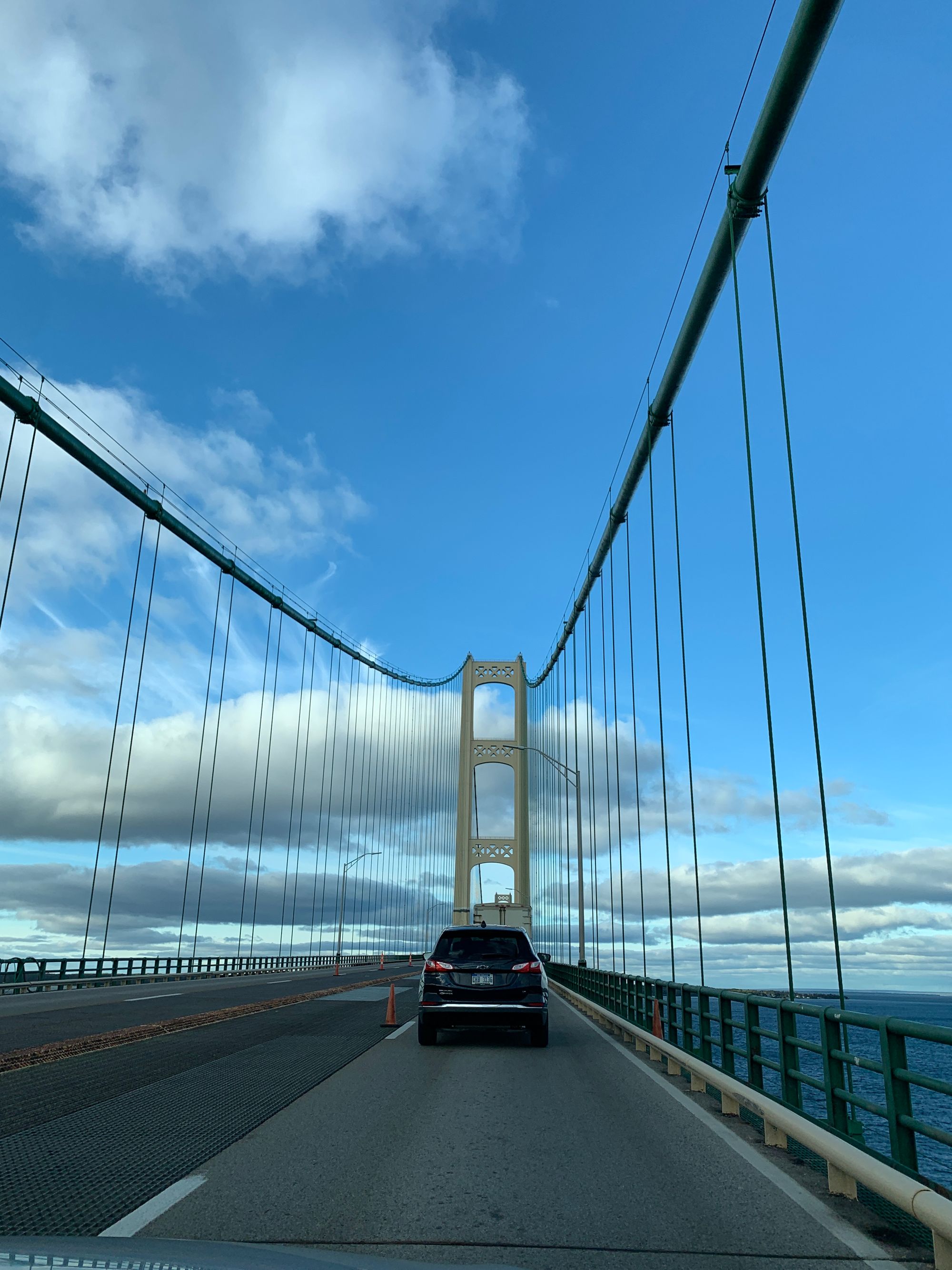 For those of you unlucky enough not to be from Michigan, I strongly recommend a visit in the late summer or early autumn. The west coast in particular is endless sandy beaches and dune grass (less beach right now because the water levels are up, but still!), and the Mackinaw Bridge has got to be one of the best bridges in the world to drive over.
We stopped for the night in Munising, so that we could wake up early the next morning and take a boat to see the Rocks. The hotel clerk was wearing a mask; we wore masks; everyone else we saw was wearing a mask, and so we slept soundly that night. God bless Governor Whitmer! (Also, foreshadowing of maskless South Dakotan doooooooom in part three...)
The next morning we picked up our pandemic-era hotel breakfast in a brown paper lunch bag from the front desk ("You want a blueberry muffic, a banana muffin, or an orange muffin, hon?") and headed out. It was cold and grey, and I needed coffee, so we popped into spacious Gallery Coffee before heading to the dock.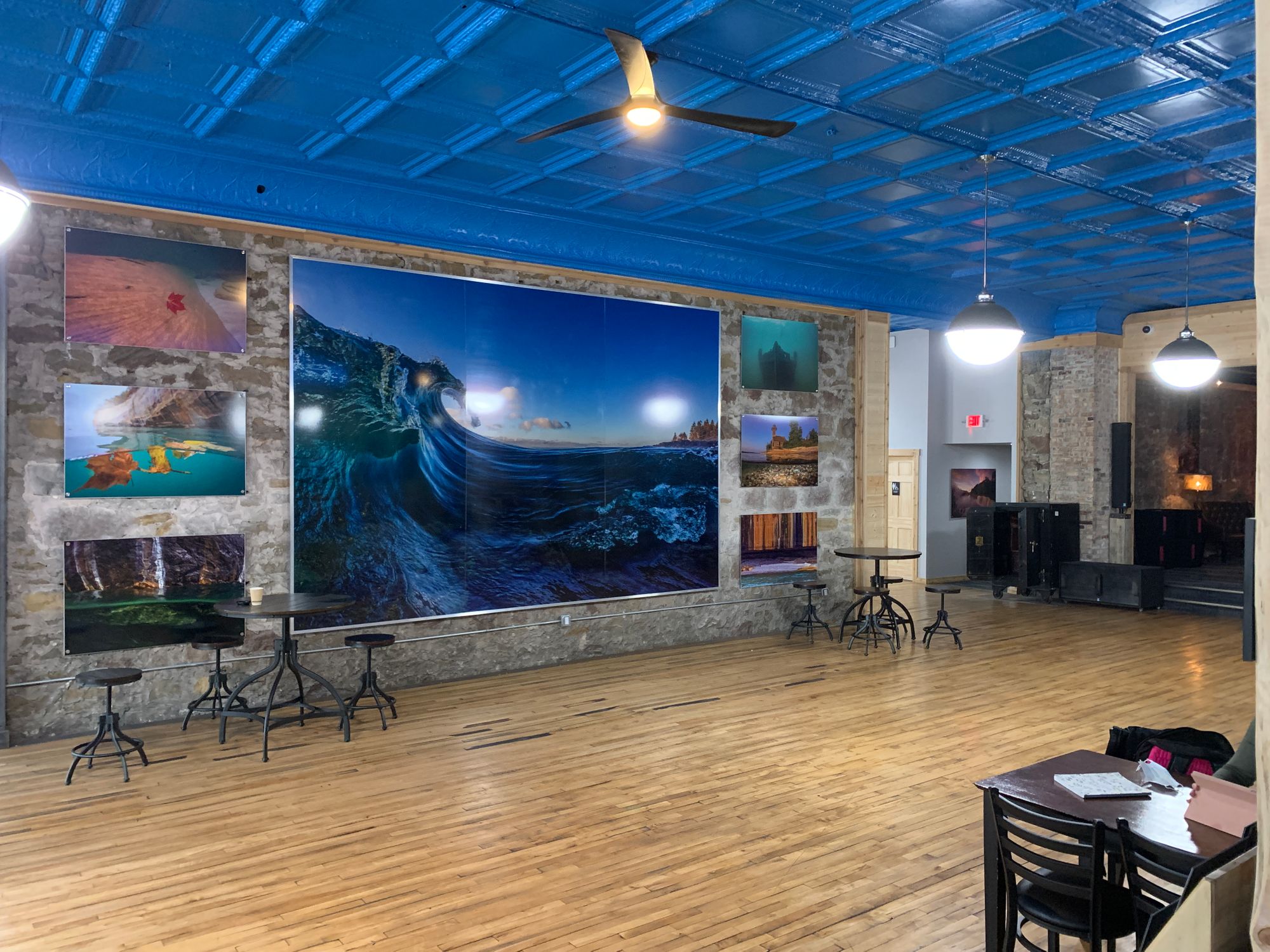 (One of the benefits of roadtripping in October turns out to be that the other people with the same idea are mostly retirees who apparently aren't into fancy coffee.)
Finally, we put on our windproof outer-layers and got ready to board the boat. For those of you not familiar with Pictured Rocks, it has great hiking trails and a good beach (albeit one ominously - if accurately - named Mosquito Cove). If you hit the sweet spot between black fly season and mosquito season, the backpacking is fabulous! However, if you want the best views of the actual Pictured Rocks, you need to do it by water. And that's how we wanted to kick off our adventure - with the best views of Pictured Rocks.
As you can see below, there was quite a long line waiting to board the boat on a brutally windy, chilly Friday morning. Eventually a small line did form, but we lost a few people from it when the captain came out with a megaphone and told us that the north wind was making the waves choppy enough that if we were at all inclined to get sea-sick, we WERE going to get sea-sick. (This was driven home even more sharply when one of the crew hauled a toilet off the boat with the comment, "If you feel sick, please don't throw up in one of these!")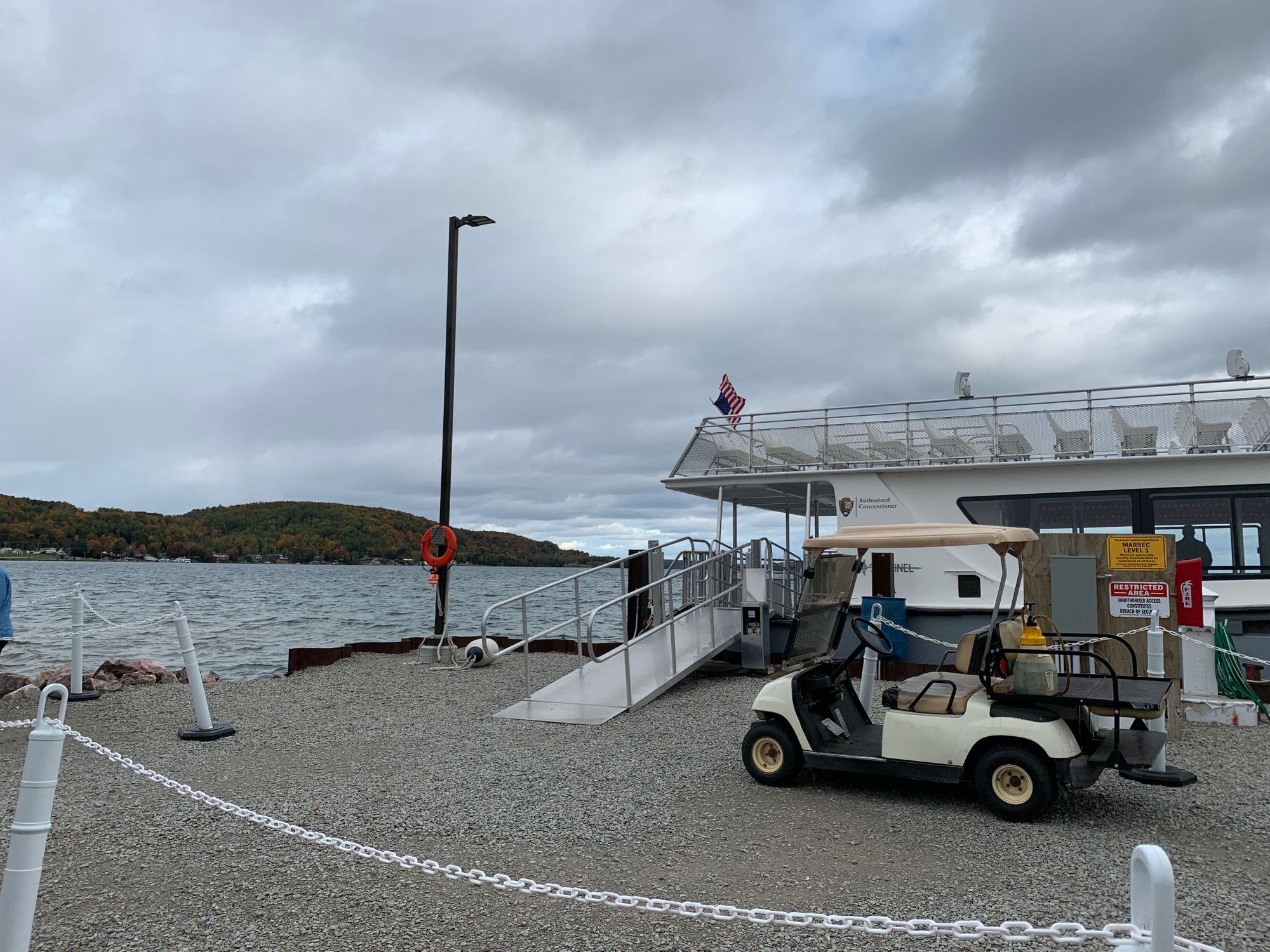 David and I had been ready to throw some elbows to get good seats on the top deck, but that turned out not to be an issue.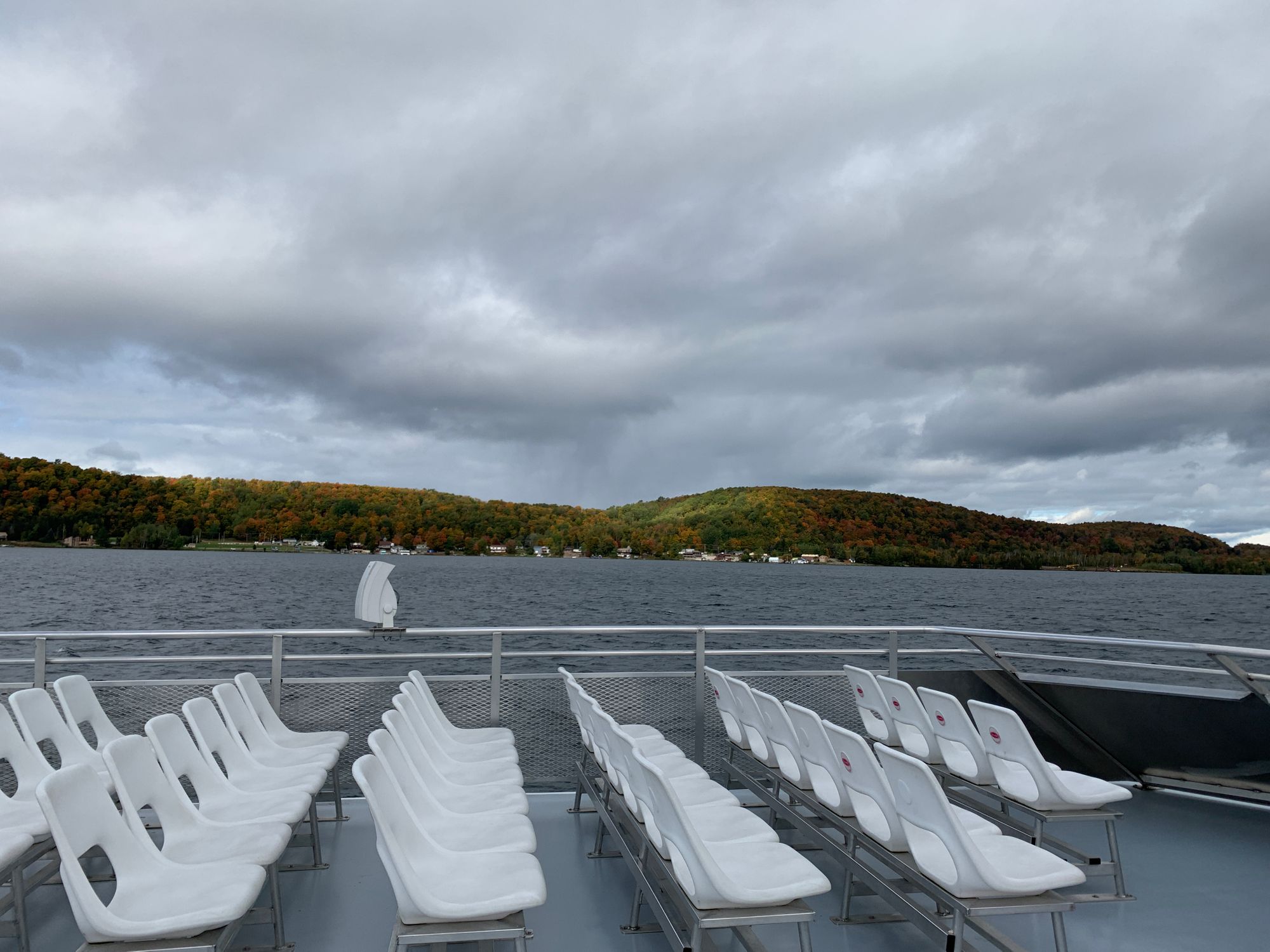 In fact, there were only six other people on the whole upper deck with us, and three of them went down before the boat even left the pier, after a crew member warned us we WERE going to get wet up there.
While everyone else huddled for warmth in the glassed-in deck downstairs, David and I battened down our sartorial hatches and got pumped for the ride.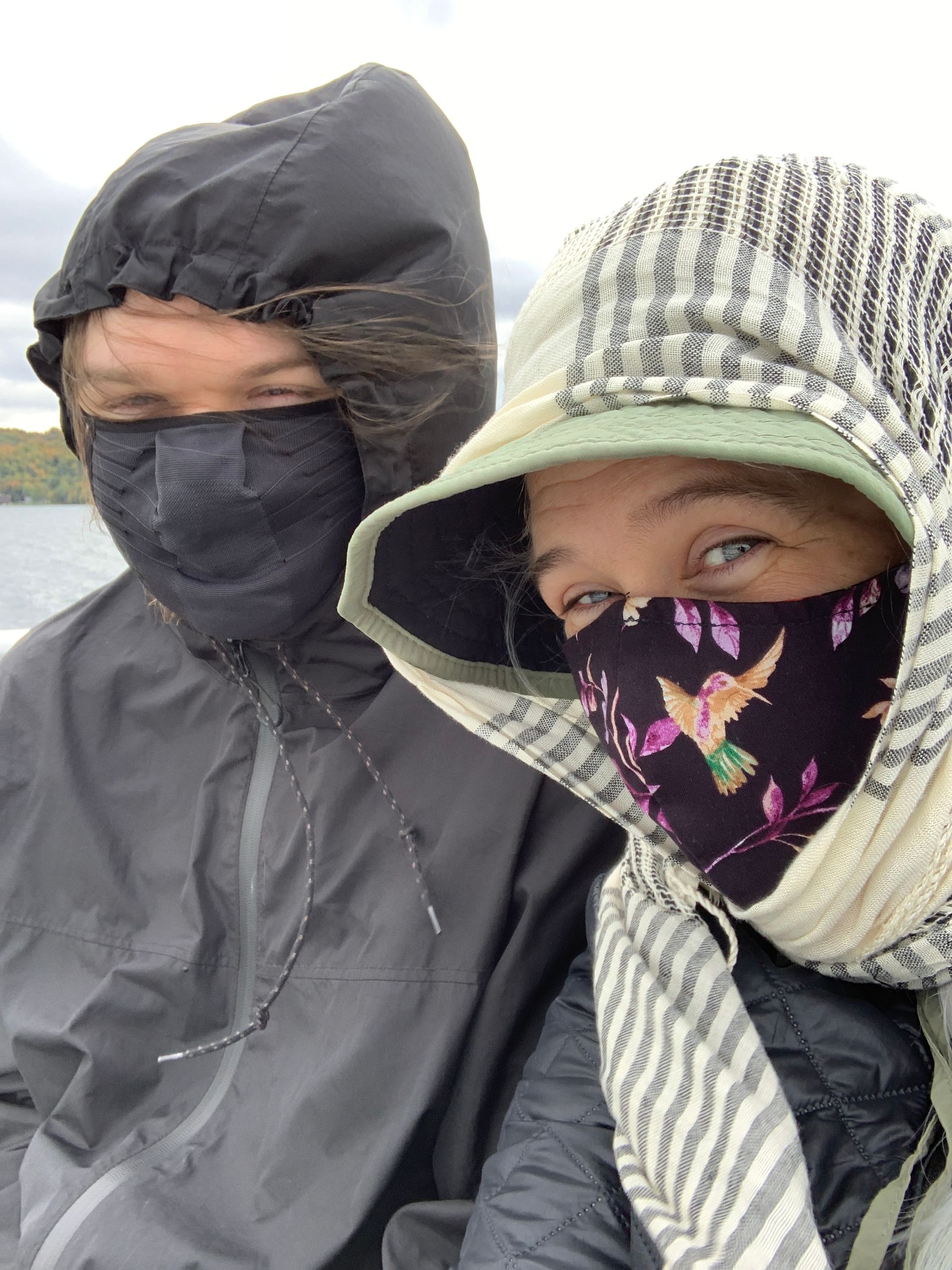 The trip was supposed to be about two hours - 36 miles or so. But then, about halfway across the bay, we hit the wind and the waves. In less than a minute, both David and I were DRENCHED with spray. It was like one of those log rides at an amusement park that you take when it's blisteringly hot and you want to get wet enough to cool off...except that it was maybe ten degrees above freezing instead.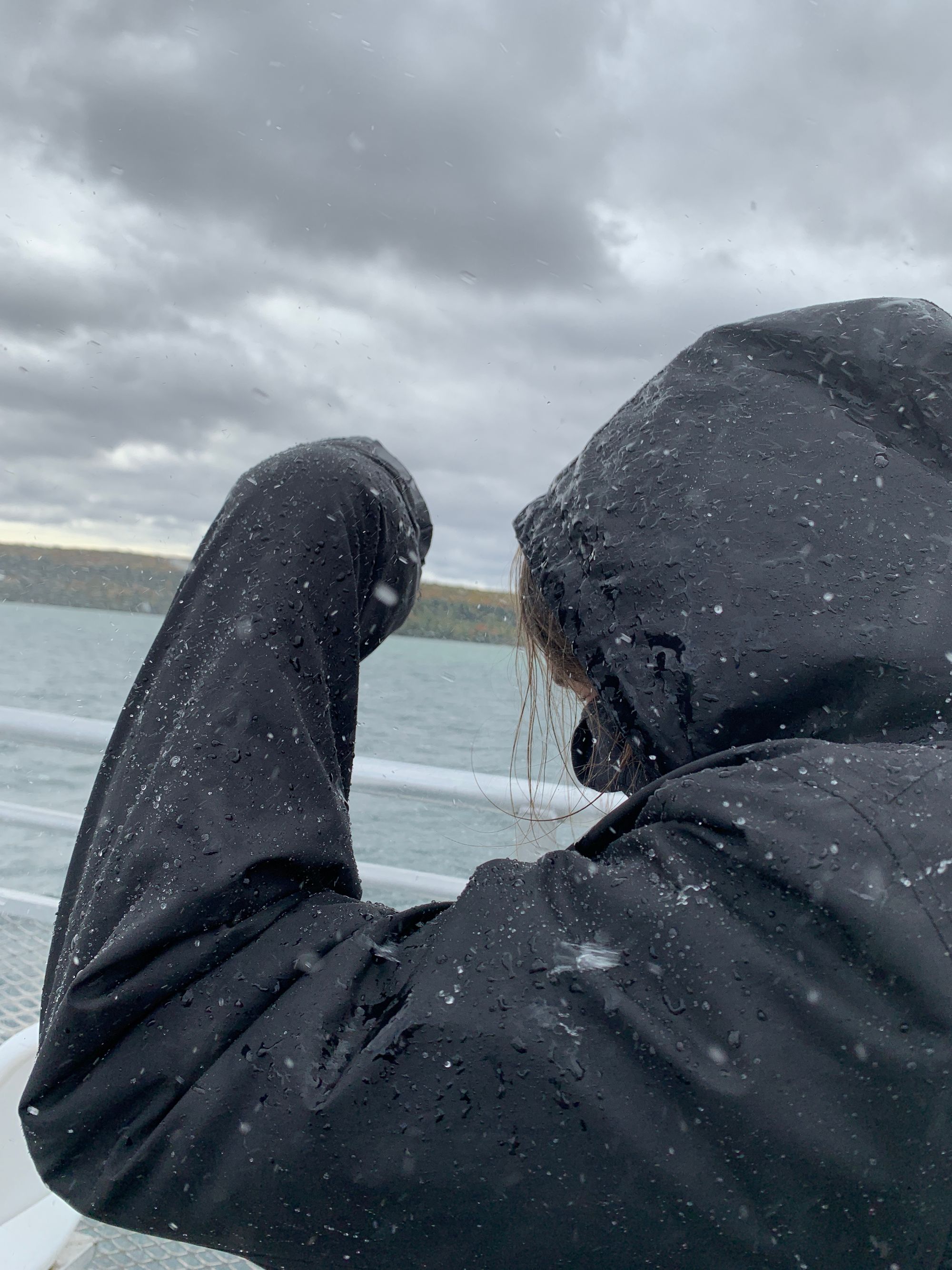 The thing is, once you're soaked, you're soaked. We had warm layers under everything and enough of our outer layers were water-and-windproof that we weren't in any danger of hypothermia. (Am I selling this voyage yet??) So we decided we might as well stay put and get the good views from on top. Our adrenaline was up, we were just coming to the open lake, and very soon we were going to start seeing some of the actual Pictured Rocks!
Sadly, about 30 seconds after I took the above photo, a crew member came up and told us it wasn't safe enough for us to stay up there. In fact, he announced that the boat was going to have to turn around shortly - on account of how we were just coming to the open lake, where the weather was going to get even more intense. So we made our way down to the lower deck (and I'll grant that it was not EASY to do so) and huddled together for warmth next to a window that was open exactly one half-inch. You couldn't actually see anything from the windows themselves - they were both steamed up from the relative heat inside the cabin and so constantly splashed with spray that it was like being inside a car wash.
This was pretty much what the rest of the ride looked like through that half-inch window crack: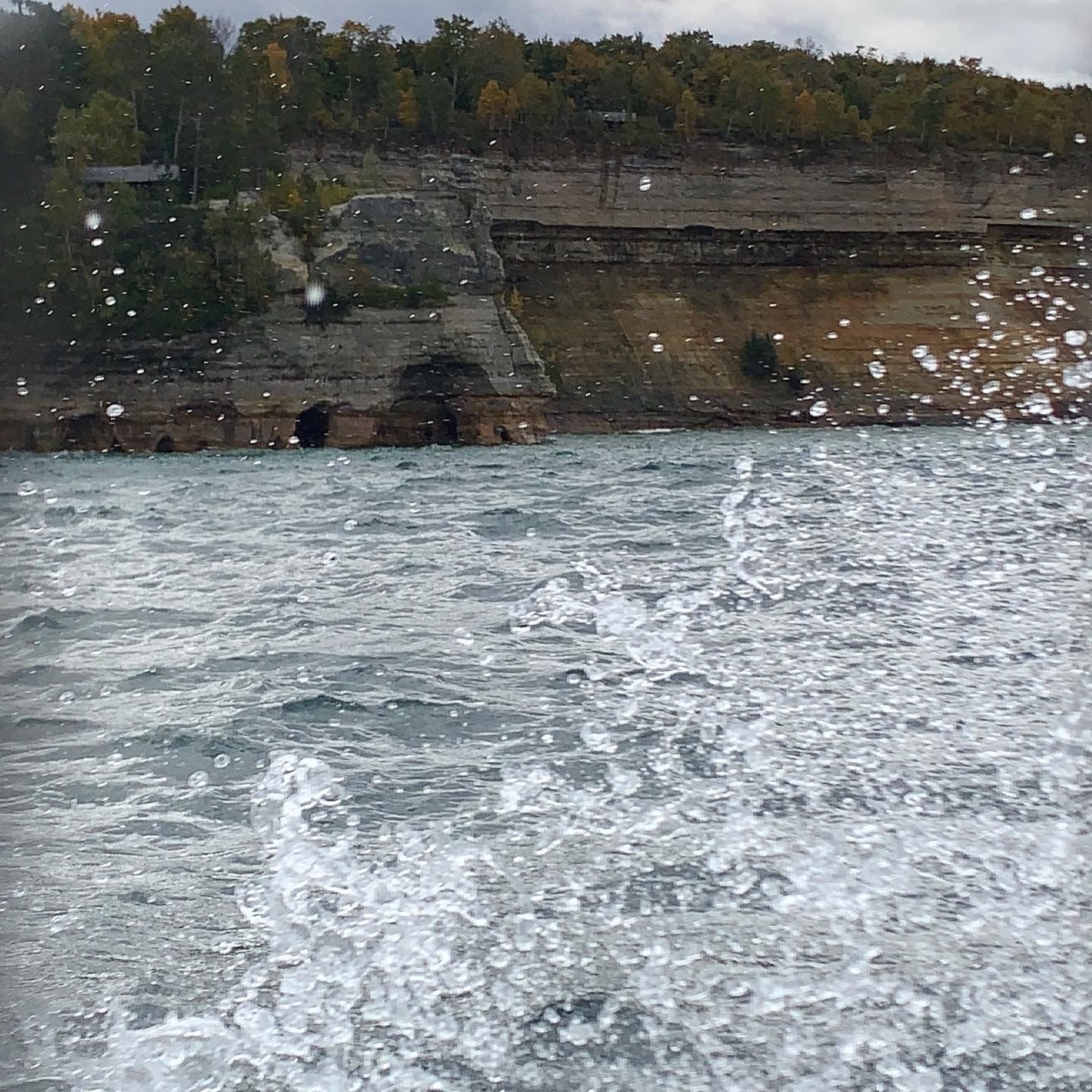 We turned around at Miner's Castle (the very first point of interest on the ride, so...not so much rock-viewing for us) - none too soon for the several people who were holding their heads in their hands and looking reallllly sorry about being on-board. The big highlight of the return trip was this lovely view of the East Channel Lighthouse - decommissioned long ago, but all the more picturesque for it.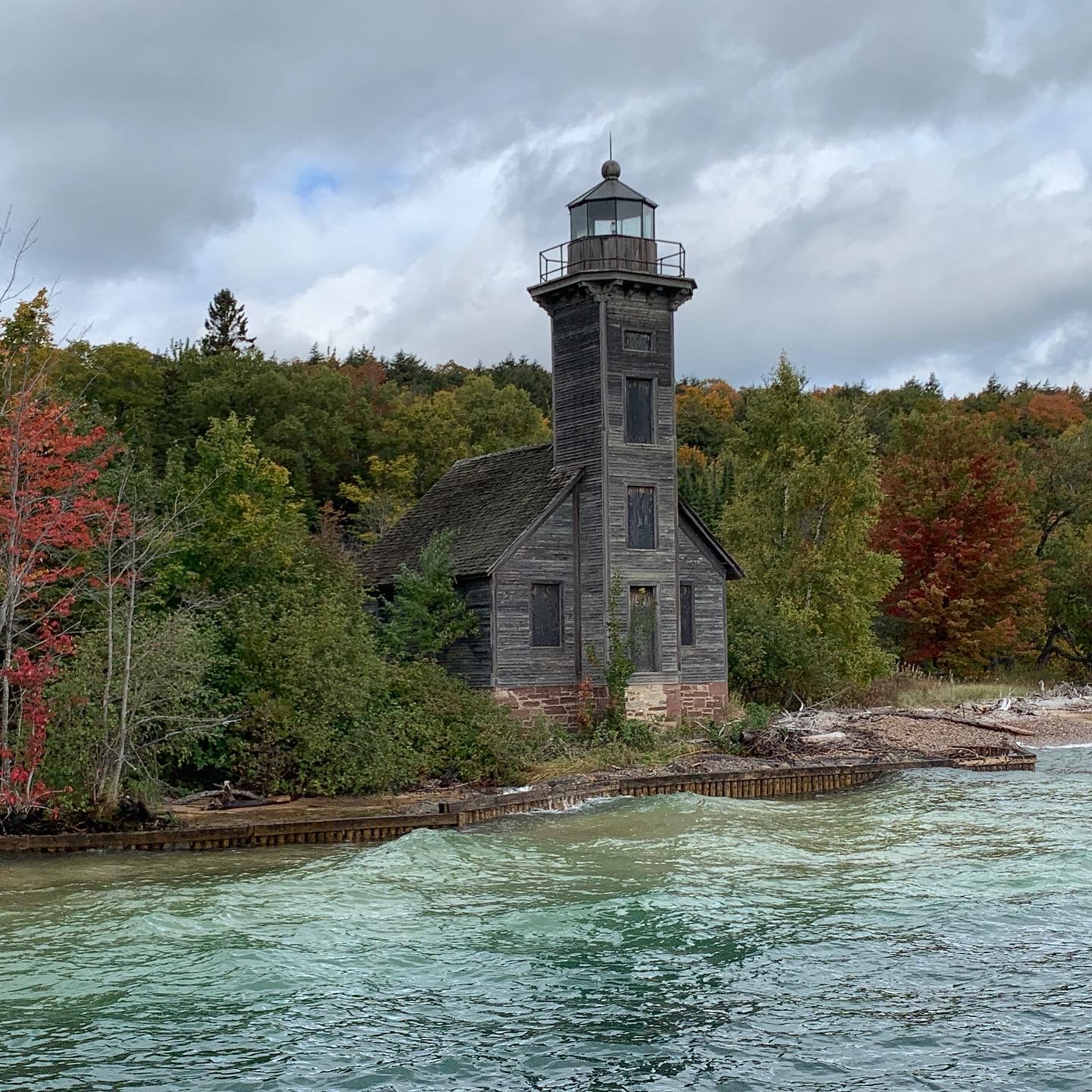 Finally back at the dock, we squelched our way down the gangplank and thanked the Lord for the dry warm clothes in our backpacks in the car. After changing in the restroom of the nearby "Eh! Burger" (which promises "a holy wah" in every bite), we enjoyed the sort of culinary experience only attainable after being reminded just how biting the wind can be and how very serious Lake Superior is about taking you down.
Here David is, sitting on the outdoor patio, getting ready to plow into some steaming hot chili fries. He was not about to stop long enough to take a picture of me eating my Impossible Burger, so you'll just have to imagine us there at the wooden picnic table, happily munching away and laughing about just how wet we'd gotten, looking forward to seven more hours in the car together that day and countless more to come.